I have been getting a lot of questions about what this new program called 2B Mindset is all about! So I am about to drop you all the details on the program, the most commonly asked questions and concerns so that you can decide whether or not this program would be a good fit for you!
What Is the 2B Mindset?
2B Mindset is unlike any other Beachbody Product and program ever created before. Beachbody has always defined itself as being a fitness company that creates world class fitness programs that transform your body along with incredibly well designed nutrition plans to really give you the total body solution to your problems. Beachbody pairs their fitness and nutrition with an incredible support system that is provided by the networks coaches who walk you through the fitness programs from start to finish to get the results that you want!
2B Mindset follows the similar support system guidelines but this program focuses on the one area that most people struggle with the most and that is NUTRITION! I have so many clients who have no problem showing up for the workouts but it is the nutrition that constantly trips them up and prevents them from getting the results they want or maintaining their hard work. So Beachbody saw the need to find a solution to some of the common struggles we as women face such as:
Yo-Yo Dieting

Feeling like you are constantly on a diet

Feeling like you are restricted

Counting Calories, Macros, and portion containers

Loving to eat lots of food AKA Volume Eaters

Late night snacking

Emotional Eating

Traveling/Dinners Out with friends

Meal Planning and Prepping
So Beachbody paired up with Ilana Muhlstein R.D.N. who is a Registered Dietitian Nutritionist in Beverly Hills. She works at UCLA where she has lead the Bruin Health Improvement Program for 10 successful semesters.
2B Mindset is a video based weight loss program that will change your mindset about food, your body, and losing weight!
Instead of diets that focus on what you can't eat, this simple and easy approach will have you focused on what you CAN eat so you FEEL FULL, satisfied, and in control without ever counting calories or points or measuring foods!!
You can ACTUALLY LOSE WEIGHT HAPPILY!!!!
Ilana actually lost 100 pounds herself with her own program. So in this 2B mindset program you re going to learn her favorite tips, tools and strategies to help you achieve your weight loss goals while living your life to the fullest.
EXERCISE is actually bonus! So if you want to start and JUST focus on nutrition you can still have success with the program.
What Comes In The 2B Mindset Package?
There are 21 videos that teach you the basic principles of the program such as education on the food groups, what to eat and when, plus real life strategies for every eating situation (eating at restaurants, parties, while on a trip, for vegans/vegetarians, ect…).

5 videos to overcome common weight loss struggles and it includes answers to commonly asked questions and advice on weight loss challenges.

15 Recipe Videos where Ilana teaches you to cook time saving, delicious, easy and satisfying meals in no time.

Getting Started Guide: Which is an easy step by step instructional manual to help you get your journey under way.

My Go To Guide: This accompanies the videos and highlights the key takeaways, recaps the food lists, features grocery shopping lists, and more.

2B Mindset Recipes: Includes over 30 of Ilana's favorite recipes.

90 Day Tracker for your progress and meals plus other key indicators that play a role in helping you achieve your weight loss goals.

Water Bottle: You are going to be focusing on "water first". The goal is to drink lots of water through the day and she gives you tons of strategies on this.

Beachbody Nutrition + App: This is your go to place to access the entire 2B mindset program, featuring all the videos, the tracker, downloadable and printable tools and resources, and 24/7 access to the 2B mindset community.
What Makes 2B Mindset So Different & Effective?
It's not a DIET- it is a MINDSET!!! Most diets have an end date. But because you are going to be shifting the way you think about food, you can use the 2B Mindset principles for the rest of your life. Also, most diets require deprivation. The 2B mindset shows you how to get to, and maintain, your idea weight, while eating the foods you enjoy so you always feel satisfied and happy!
This program is extremely EASY TO FOLLOW!! There is no counting calories, no measuring food, and no using food containers. No cutting out food groups, no deprivation or feeling hungry and you have the ability to follow the program even when you are at a restaurant, a party or on vacation!
How Is Shakeology A Part Of The Program?
Ilana is a HUGE fan of Shakeology because it is high in protein (17g). Shakeology can count as the protein for any of the 2B meals. One of Ilana's primary tips is to have a consistent breakfast and Shakeology is easy and quick to make and so this is a great option for your breakfast or any meal that you struggle with! Plus you are getting nutrients, vitamins, pre and probiotics to help you digest your food, give you energy, and help you fill in the gaps you don't get from the foods you eat!
Do You Want To Join Me In Doing This Program?
I am going to be hosting my very FIRST 2B Mindset Support Group starting on the 21st of MAY!! I'm currently accepting applications for those that wish to have a 24/7 accountability group to answer questions, to stay motivated, to walk through obstacles and tackle this new lifestyle together! Exercise is not required but is considered extra credit.
This group will take place through a closed online accountability group!
We will start on May 14th and each participant is required to make ME their COACH and to commit to the 2B mindset program plus replacing 1 meal a day with Shakeology for the duration of the group. I will be there with live videos, tips, recipes and accountability daily! I will share with you everything that has worked for me over the past 7 years.
So what are you waiting for?
It's time to reserve your spot!!
How Much Does It Cost?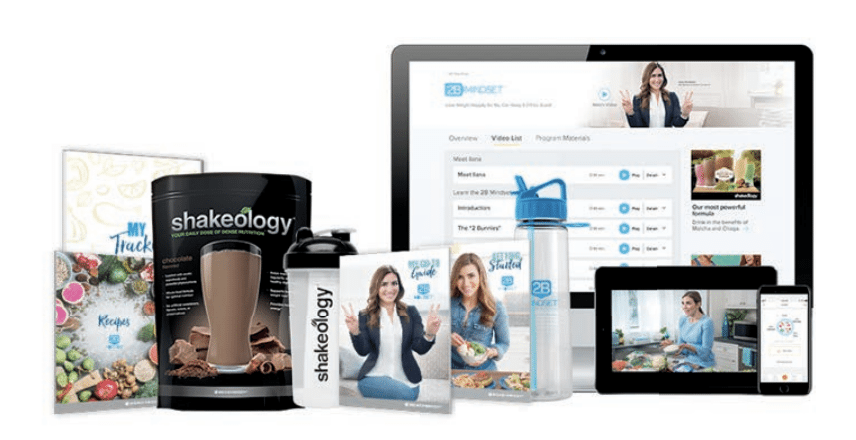 The 2B Mindset Challenge Pack consists of:
Streaming access to all of the 2B Mindset videos

The 2B Mindset Starter Guide

The 2B Mindset Go-To Starter Guide

The 2B Mindset Recipe Book

The 2B Mindset Recipe Book

The 2B Mindset 90-Day Tracker

The 2B Mindset 30 fl. oz water bottle

Access to the videos and tracking via the Beachbody Nutrition + App (App available June 3rd)

Plus 30 days of Shakeology and a Shaker Cup
The 2B Mindset Challenge Pack is available for purchase through me as your coach by clicking this link here!
2B Mindset Challenge Pack Costs $160 and this is a promotional price from the 2nd of May until the 3rd of June. The regular cost is $180.
If you would like to add on the 1 year membership to Beachbody On Demand which is our digital streaming platform where you can do any of the workouts that our company has ever created you can get the 2B Mindset & Beachbody On Demand Challenge Pack for only $200 and that is an INCREDIBLE SAVINGS!!!!!
The 2B Mindset BeachBody On Demand Challenge Pack is available for purchase on the 2nd of May by clicking the link below.
Most Commonly Asked Questions.
Can I access 2B Mindset on Beachbody On Demand?
2B Mindset is on it's own platform separate from Beachbody On Demand. It is called our Nutrition Platform. You will purchase this product and you will have forever access to the resources.
When is 2B Mindset Launching?
2B Mindset launches on May 2nd on the Nutrition tab on Beachbody On Demand. On June 4th 2B Mindset will also launch the Beachbody Nutrition + App. Anyone who purchases 2B Mindset will have access to stream the program on the nutrition tab of Beachbody ON Demand and also the app.
Can I exercise while doing 2B?
Yes you can exercise but it is not required. It is considered extra credit.
If you are going to do a program like 80 day obsession you can choose to forgo the 80 day nutrition plan and do the 2B Mindset eating! Totally up to you!
Can you do 2B Mindset if you are pregnant or nursing?
2B Mindset is a weight loss program. Since pregnant mothers should be gaining weight and not losing weight, it is not advised that they follow 2B Mindset during pregnancy. For breastfeeding mothers, La Leche League International advises to wait at least two months before making any drastic effort to lose weight in order to allow your body to recover and ensure a steady milk supply. Keep in mind that breastfeeding women may naturally lose one to four pounds per month simply due to the amount of energy required to nurse in the first place.
If you have questions don't hesitate to reach out!!
Contact Me by Clicking Here!!