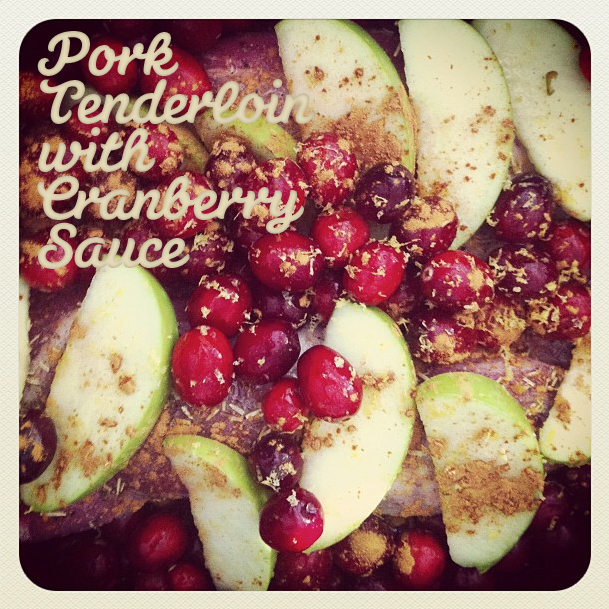 Crockpot Pork Tenderloin with Cranberry Sauce
Serves 6
Two 1 lb pork tenderloins, or one 2 lb pork tenderloin
Sea salt and pepper
Herbamare
, optional
1 tsp dried rosemary
3 cups fresh cranberries, divided (I bet defrosted frozen cranberries would work)
2 apples, cored and sliced thin, divided (I used Granny Smith)
1/4 cup juice or water (I used Organic Cherry; however, Organic Apple or Orange would be ideal)
2 tsp citrus zest, divided (I used lemon, but orange would be divine!)
1/4 cup maple syrup or raw honey, divided
Lightly mist the inside of your slow cooker with cooking spray or EVOO in a Misto.
Place half of the apple slices on the bottom of the slow cooker followed by 2 cups of the cranberries, 1 tsp citrus zest and 2 tbsp maple syrup or honey.
Place the pork tenderloin on top of the cranberries. Generously season the pork with sea salt, pepper, rosemary and Herbamare, if using.
Top the pork with the remaining apple slices. Sprinkle the remaining cranberries on top of and around the pork tenderloin. Sprinkle the top with the reserved 1 tsp citrus zest and 2 tbsp maple syrup or honey.
Pour the juice or water into the slow cooker.
Securely place the lid on top of the slow cooker and set it to cook on Low temperature for 6-8 hours, depending on the size of your pork tenderloin. I used two 1-lb pork tenderloins and they were fully cooked at 6 hours.
If possible, remove the pork tenderloin and allow to rest in a warm place for 30 minutes on a plate covered with a heavy towel or two. Set the heat on the crockpot to high and remove the lid. Cook sauce for an additional 30 minutes to thicken.
Alternatively, you could stir 1 tbsp arrowroot whisked into 2 tbsp of water into the sauce after removing the pork from the crockpot.
With the addition or a starch/grain and a green veggie, this is a decadent clean meal!!
For more help with eating clean check the
recipe tab
on my page here!! I also run Clean Eating support groups online for daily support with meal ideas and menu plans to refer too!!
Click here to fill out a application to join >>
https://stakeley.wufoo.com/forms/challenge-group-application/
Enjoy!!
Sara Stakeley