Anytime you have a bone in this house we save a create a wonderful soup!! I always remember having some pretty tasty soups after a Holiday in the house from turkey and rice after Thanksgiving to my all time favorite ham, green bean and potatoes after Christmas!! The funny part is as a "adult cook" it is pretty hard to find a bone to make a homemade stock in the local grocery stores. I usually have to call head or go to a local butcher.
A cold day at home here in PA is a perfect day to relax and let the house fill with aroma of homemade soup.
My sister is staying with us and here dog Chino would agree!! Every time I step into the kitchen he right by my side wondering what is cooking !!
String Bean, and
Potato Soup

1 ham hock
6 average-size potatoes
2 cups string beans
Salt and pepper to taste
Makes 4 to 5 servings
1. Put at least one ham hock in a stockpot and add about 10 cups of water (until the hock is covered). The more hocks you add, the more water you add. Cook on medium to low heat for HOURS. At minimum, two hours, at most, all day. As the water evaporates and the hock starts to fall apart, add more water if you need to. You want to end up with enough broth for at least four people to have a full serving.
2. When the broth seems done and the ham hock is falling apart, either strain the broth or remove the hock, and after it cools a bit, remove the meat from the hock and add it back into the soup. If you want to add lots of ham and make it a more meaty soup, add either cold ham cut off the bone or a ham steak cut into cubes.
3. Wash and clean (peel if you so desire) the potatoes, cube them, and put them into the simmering broth.
4. Add the string beans, too. (Traditionally, this soup used dried string beans, which have a stronger flavor and aren't required.)
5. Cook until the potatoes are done, and serve with drop biscuits or other crusty bread.

I think my grandmother added celery salt, but that's the kind of thing I can never find in an organic version, so I just skip it. If you want to add celery, you can, but don't get too creative because the Pennsylvania Dutch are notoriously resistant to new ideas! Definitely salt and pepper to taste (some ham hocks are saltier than others).


Do you like a heartier veggie filled soup you have to try this!!!.


You can use up your leftover ham bone to make this cozy, hearty soup loaded with tons of veggies and chunks of sweet ham!




Leftover Ham bone Soup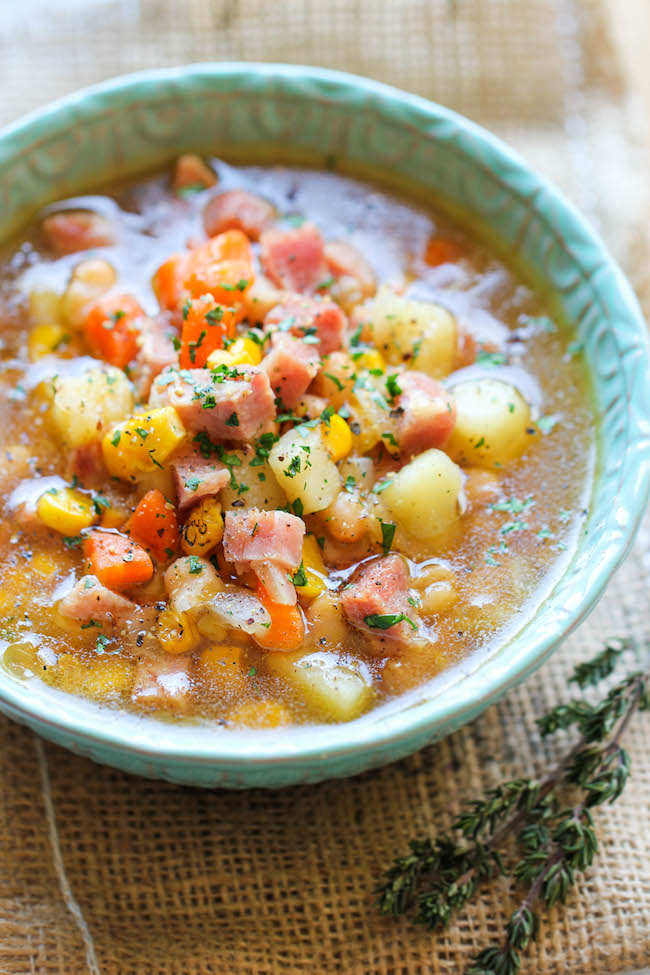 Leftover Ham soup
1 leftover ham bone
1 tablespoon olive oil
3 cloves garlic, minced
1 onion, diced
2 carrots, peeled and diced
1 russet potato, peeled and diced
1 cup white kidney beans
3/4 cup frozen corn kernels
3/4 teaspoon thyme
2 bay leaves
Kosher salt and freshly ground black pepper, to taste
1 1/2 cups leftover diced ham
Instructions
Place leftover ham bone in a large stockpot or Dutch oven and add enough water to cover the bone halfway, about 6-7 cups. Bring to a boil; reduce heat and simmer until very fragrant, about 30 minutes to 1 hour; remove and discard ham bone.
Heat olive oil in a large stockpot or Dutch oven over medium heat. Add garlic, onion, carrots and potato. Cook, stirring occasionally, until onions have become translucent, about 2-3 minutes. Stir in ham stock, beans, corn, thyme and bay leaves; season with salt and pepper, to taste.
Bring to a boil; reduce heat and simmer until potatoes are tender, about 10-12 minutes. Stir in ham until heated through, about 1-2 minutes.
Serve immediately.
Meals that can be created from leftovers are my favorite! When you can use something twice and even better create a freezer friendly soup!! Winning!!
Enjoy!!
Sara